Let's get right to the point, if you have a piece of equipment that requires a cable; we can help. We started our business by networking Telephones and Computers in office buildings. You might be adding a couple more people to your office or you might be building an entire new wing with 500 desks and a new data center. We'll make sure that each desk and each server has what it needs to get their job done.
Structured Cabling: This is a system of backbone and horizontal cabling, along with the appropriate hardware, i.e. racks, patch panels, etc. that provide the telecommunication needs for an area. Think of it as the highway that voice, video and data can travel over. The speed of this highway is, in part, determined by the type of copper cable you use.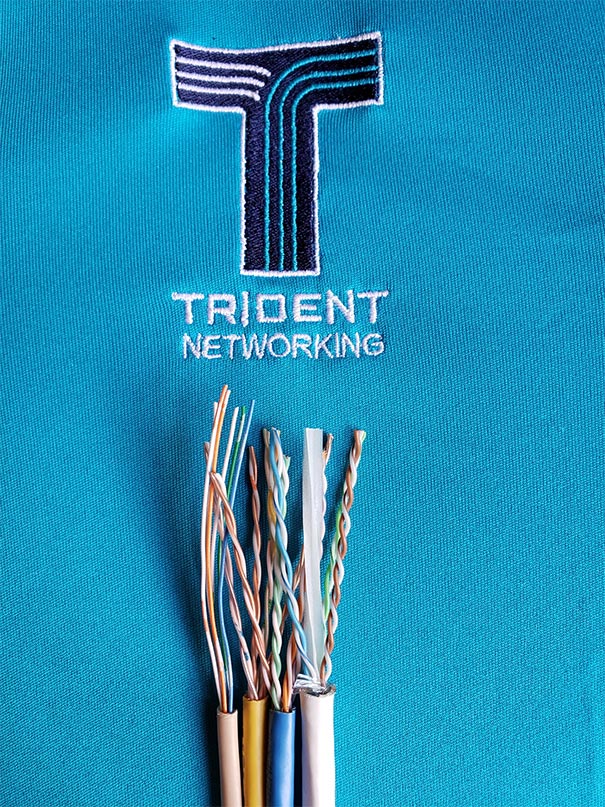 In the simplest terms, these configurations are based on how far you need it to go, the speed you're looking for and the environment surrounding the cable.
If anyone says they pull CAT 3 please hang up. That's like calling an auto dealership and the sales guys telling you that you'd look great in a Model T. Yes, it works but you're not getting anywhere in a hurry.
Max Speed:         Baby crawl.
Max Distance:     About as far as you can jump.
Max Bandwidth: Thimble full.
Typically used for residences and occasionally for voice connectivity in an office, it's the slowest and least expensive of the commonly used cables . Cable companies and A/V installers will run this for their equipment. It's about 30% – 40% less expensive than CAT 6.
Max Speed:         1Gbps
Max Distance:     100 Meters / 330 Ft.
Max Bandwidth: 100 MHz
If you're in an office or considering a Data Center, this is what you'll be using. It's price and speed make it the most economic option. This is considered the 'standard' cable for the vast majority of commercial builds.
Max Speed:         From 1 to10 Gbps depending on distance.
Max Distance:     100 Meters / 330 Ft.
Max Bandwidth:  250 MHz
Imagine if CAT 6 started taking steroids, that's what this looks like. It's bigger and stronger than CAT 6, but it comes at a fairly heavy price both in terms of additional labor and actual cost. It's about 15% thicker than CAT 6 so it's more difficult to pull and terminate. This is going to add to your labor costs. And it's about 30% more expensive. In addition, unless you have equipment that can handle the speed it's pointless to run CAT 6A so make sure your PC's have the correct Network Adapter Card. Now for business that require high bandwidth, this is certainly a good option and should be considered.
Max Speed:         10 Gbps
Max Distance:     100 Meters / 330 Ft.
Max Bandwidth:  500 MHz
This is the latest and greatest cable to come out. If you're an early adopter and your company has extraordinary throughput demands, you should consider using this with the understanding that it's going to be an expensive proposition. The cable itself isn't that much more but remember you need to have the correct equipment to be able to take advantage of the speed so it not just about the cost of the cable. The real benefit of this type of cable is the shielding that's built into it. This reduces any outside interference or cross-talk. The result is that you have a cable that is 6x faster then CAT 5e and 2.5x faster then CAT 6.
Max Speed:         10 Gbps
Max Distance:     100 Meters / 330 Ft.
Max Bandwidth:  600 MHz  /  1000 MHz
They're working on this one. Come back in 2021 and we'll have an update for ya.
What can we do with this cable? Build: ​
Build out your Local Area Network (LAN).
Build out your Wide Area Network (WAN).
Build out your Wireless Access Points (WAPs).
Connect your Audio / Visual equipment.
Build out your security system, i.e. badge readers.